Instagram, a subsidiary of Facebook, is a social media platform for posting mainly photos and videos; it has many relatively young female users in their teens and twenties and has become a medium for generating the latest trends, including collaborations with influencers (Instagrammers).
Many companies are currently using it as a marketing medium, and some are considering using the Instagram logo when introducing Instagram on their official websites or advertising that they want people to follow them. I think there are some.
In that case, if you use the Instagram logo on your website, brochures, or other company media, you need to be careful not to violate the terms and conditions without knowing that there are various regulations. In this article, we will explain the terms and conditions for using the Instagram logo and how to use the logo.
Logo Terms of Use
The Instagram logo, familiarly known as the camera symbol, was redesigned in May 2022.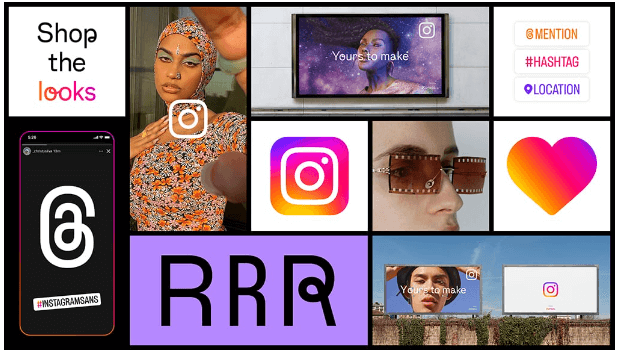 Image: Introducing the redesigned Instagram visual | Instagram
The May 2022 relaunch includes a new visual identity with new colors, typefaces, and logo.
The gradient of the app logo, created with a "3D modeling process," is now more vibrant than before, and innovative upgrades include "Instagram Sans," a typeface designed to accommodate any typeface in the world while preserving Instagram's heritage. It is
A simple, creative design that puts content at the center.
Detailed guidance in English on the terms and conditions of use of the Instagram logo can be found at the official website at
https://www.instagram-brand.com/
It is stipulated that the logo and other screenshots and other materials should be downloaded from this official site. You do not need Instagram's permission if you use the default designs listed here according to the terms and conditions.
General Terms of Use
Rules for Design Changes
There are two types of Instagram logo icons: the APP icon and the glyph icon. Changing the color or design of the Instagram APP icon is not permitted under any circumstances. Glyph icons can change color without changing the aspect ratio, but will always be used with a call-to-action button such as "Follow us on Instagram" unless they are displayed with other social media icons.
Restrictions on intended use
Glyph icons available for download as approved assets will be used to indicate a link to your Instagram account.
App icons are used when you want to direct users to download the Instagram app on a device with another app installed. Glyphs are used if you wish to display Instagram in any other way.
Rules for Campaign Use
When running a campaign on Instagram and using the logo, it must be clear that Instagram is not sponsoring, supporting, endorsing, or otherwise associated with the campaign.
Specific weight for use in the media
You should not mislead or confuse Instagram as a partner or sponsor, so you must balance your own branded content within your content. For example, when using Instagram's logo or name, no more than 50% of Instagram's brand material should exceed the media or design.
Avoid similarity and confusion.
It is stipulated that the company's logo, company name, trademark, domain, etc. must not be confusingly similar to Instagram.
Consistency in the word representation of "Instagram."
The word "Instagram" may not be changed, abbreviated, or translated. In addition, the use of non-alphabetical characters or replacing them with a logo is prohibited.
Cases in which application for use is required
If you wish to use the logo in mass media such as TV or radio, or in printed materials of A4 size or larger, you must apply for a usage license from the official guidance website mentioned above. Applications are accepted in English only, and you must submit a tentative draft showing how the material will be used or explain the purpose of use. If broadcast materials or high-resolution print materials are needed, they will be provided from the official guidance site if applied for after the application for use.
How to Obtain an Instagram Logo Icon
Instagram logos can only be downloaded from a computer.
1. go to https://www.instagram-brand.com/, read the Brand Elements section, and check the box agreeing to the Guidelines and Terms of Use.
2. 2. click on Download (image arrow).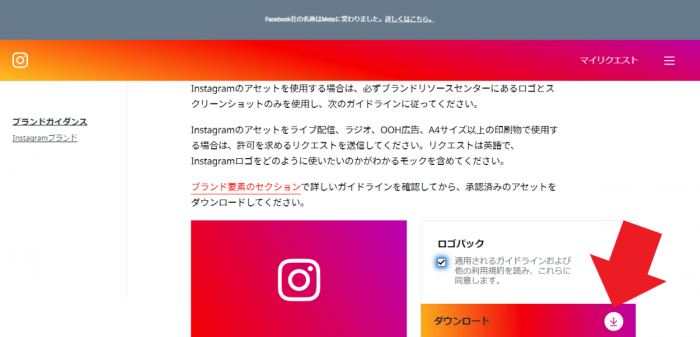 Image: Instagram Brand | Instagram
Logo Types and Usage Examples
Glyph Icon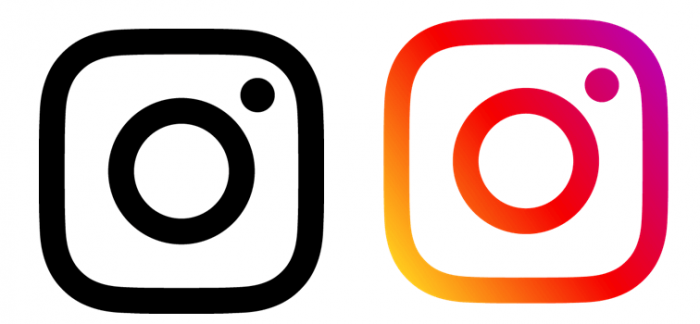 Glyph icons are typically used to indicate an Instagram account. We offer three types of glyph icons: two types (PNG format)/(EPS format) with white background and black color, and a color version (PNG format).
The black-and-white color version can also be saved in EPS format, a file format compatible with Photoshop and Illustrator, so if you want to use high-quality logo data, please use this format.
Glyph icons can be changed to any color you like, as long as you do not change the design or proportions of the logo, but official guidance recommends a single color of white or black. If used, it must be used in conjunction with a Call To Action/CTA (Call To Action Button).
A call-to-action button is a button (icon) that allows users to click on it to take an action such as making an inquiry or purchase, etc. When placing an Instagram logo icon, be sure to make a call to action of some kind. (e.g., "Follow us on Instagram!) .
An Instagram APP icon with a gradient-filled background is only used to encourage users to download the app. There are other minor innovations in the use of glyph icons.
Previously, Instagram-related apps such as
Boomerang
Layout
Hyperlapse
logo was also available for download, but is no longer available as of July 2022.
-Margins.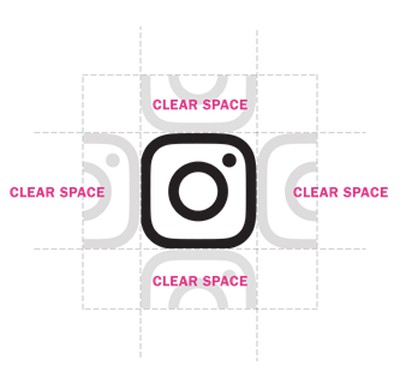 The icon must be at least half the size of the logo (at least 14.5px space) and surrounded by the logo top, bottom, left, and right.
-size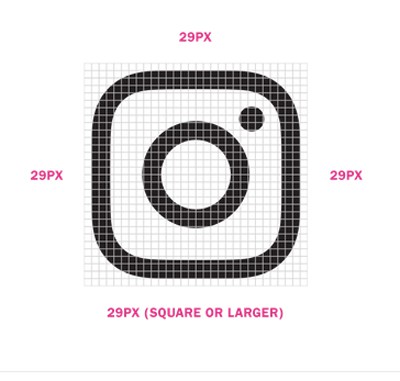 The minimum size of the icon must be at least 29x29 pixels.
Good example of use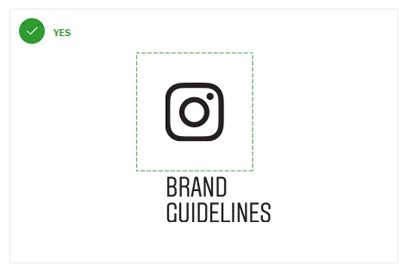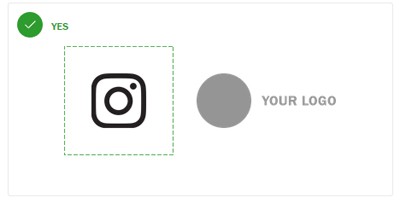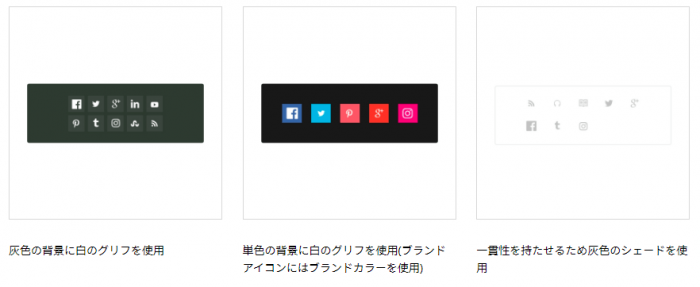 Image: Instagram Brand | Instagram
NG usage example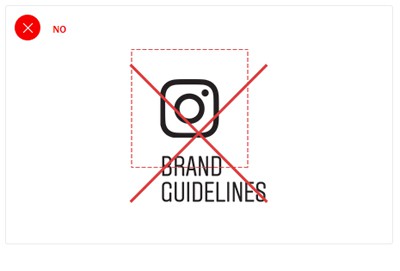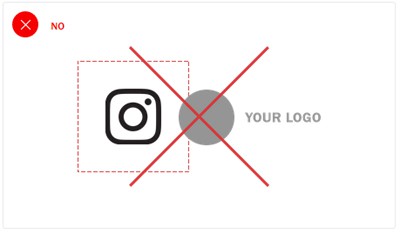 NG is not allowed because there is text or other material inside the specified margin.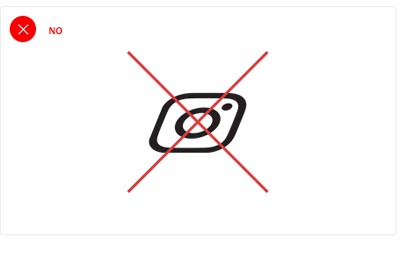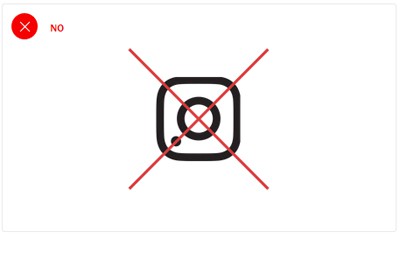 Do not change the shape or rotate upside down as shown above.
Summary of Instagram Logo Download
Please follow the specified regulations and use the Instagram logo correctly.
In addition, Find Model, which operates this media "Instalabo," can help you spread your campaign and branding using popular Instagrammers, so please feel free to contact us.
==