In general, YouTube Adsense is a major source of revenue for many content creators. Therefore, to earn revenue by displaying ads on your videos, you need to do some preparation.
If you are a new YouTube channel creator or already have a decent audience and want to enable monetization on YouTube, please refer to this post.
YouTube Monetization Requirements for 2022
First, you must meet the following monetization requirements to participate in the YouTube Partner Program.
The monetization requirements are
Your channel must have at least 1000 subscribers subscribers.
In the last 365 days 4000 hours of public viewing in the last 365 days.
2-step Authentication process must be completed. 2-step authentication process must be completed.
Community Must have 0 guideline violation warnings. must have zero violation warnings.
No more.
If you meet the above specifications smoothly on YouTube the gateway to making money on YouTube.
So, how can you accomplish this? Here are some specific examples to illustrate
How to Monetize Your YouTube Chanel: Best Practices
First, you need to track your channel's monetization eligibility on a regular basis.
For example, this is one of the results for my channel.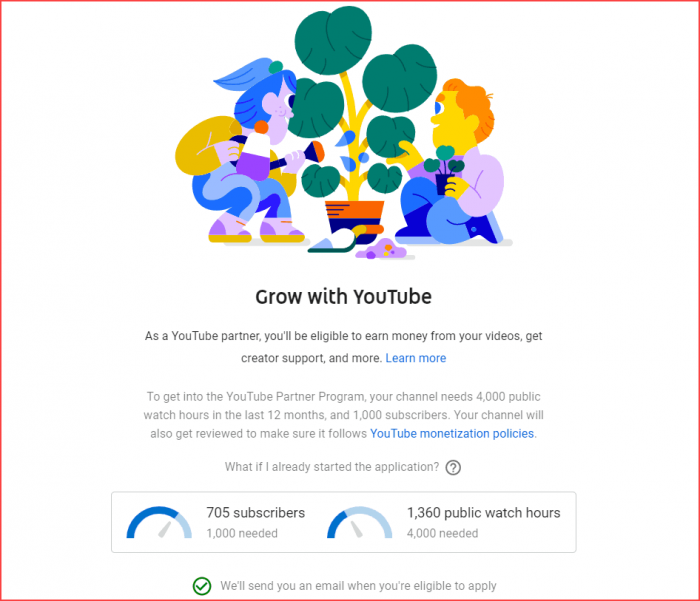 You can also check by following these steps
YouTube Studio and click on the Monetization tab in the left sidebar.
Thus, after reviewing your channel's monetization page, you will know which section you need to improve. Channel subscriber count or viewing time?
Well, do not worry if it means both. Here we will guide you to achieve it.
1. Avoid copyright claims
One of the easiest tasks to fulfill YouTube's monetization requirements is to avoid copyright infringement warnings.
If you steal someone else's work and use it in your own videos, you run into copyright issues.
To overcome this, there are "n" number of royalty-free stock asset sites available. Pick someone and use it.
---
2. follow YouTube guidelines regarding monetization requirements
Simply put, you must ensure that your channel meets YouTube's policies and guidelines.
This is not a one-time process. This is not a one-time process, meaning that YouTube will be checking your channel on a regular basis. Even after you have generated some revenue through the YouTube Partner Program, you are still subject to YouTube's If you violate YouTube's If you violate YouTube's policies and guidelines, you will not be eligible.
As YouTube states, both human review and machine learning technology can help you monitor your channel guidelines. 3.
3. pay attention to viewing time
One of the most important milestones and requirements for monetizing on YouTube is to get 4,000 hours of views in the last 365 days. That means just shy of 240,000 minutes.
There is a misconception among creators that the longer videos you create, the higher you rank.
That is fine. But don't bore your viewers with long videos (it will backfire).
So how do you overcome this?
Follow the tips below to improve your total playback time to meet YouTube's monetization requirements.
If you plan to create tutorial or instructional videos, be sure to break them up into separate episodes. Then, create a Create a playlist playlist.
This will encourage viewers to watch one video after another. It will literally help increase viewing time.
First, you need to regularly monitor which video viewing times are performing well and which are not. The question is, how can we be sure of that?
Here's how TubeBuddy Retention Analyzer Report functionality.
It gives me the percentage of viewers who watch my video at a specific time, such as 0:10 seconds, 0:30 seconds, 1 minute, half of the video, the end of the video, etc.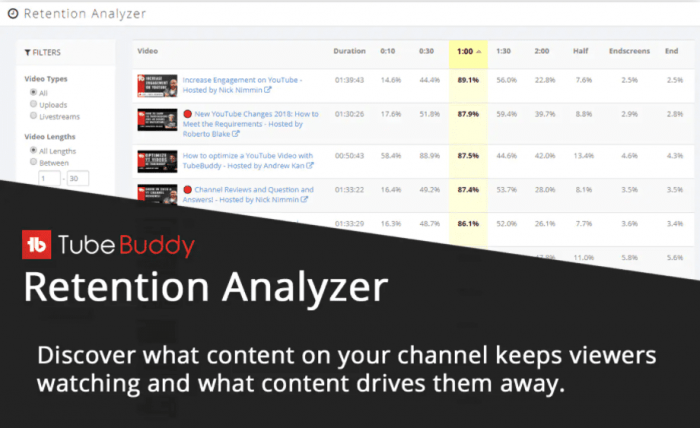 In general, this report will help you create better videos in the future. For example, consider one of your videos. Viewers come down between the first 0 and 10 seconds (maybe the channel intro). Therefore, you will need to change the channel intro for future videos.
Also consider other videos that viewers will watch until the end. Therefore, the same type of template can be applied to other videos to keep viewers throughout the video.
TubeBuddy. Download and Install Once done, go to YouTube.com and click on the TubeBuddy icon. The Retention Analyzer report will appear. See the image below for reference.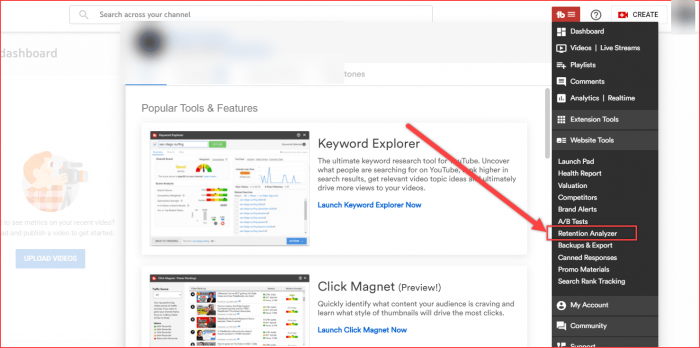 Add an exit screen or information card
When a viewer comes to watch your video and completes it, where do they end up?
Maybe a video on another channel or down from the YouTube application.
But you don't want to let that happen.
That's why to add a related exit screen video to the end of the currently playing video. the related end screen video at the end of the currently playing video. This trick allows viewers to continue watching another video, and another, and another, and so on.
In addition, the longer you keep viewers on the YouTube platform, the higher your video ranks.
For example, this What If YouTube channel. We love watching the mysteries of black holes.
So when I saw this What if a white hole and a black hole collide? Video. "What if a black hole enters our solar system?" I received a video with a suggested end screen called "What if a black hole enters our solar system?
Do you think I missed it? Not once. Therefore, the exit screen and information card are essential and will increase the number of times the video is viewed and the total play time.
Let me ask you a question! Would you watch a video if it is not what you are looking for?
I beat you to it with a quick click.
If viewers think a video is useless and means to promote different topics between videos, they will leave it before you understand them.
Therefore, don't joke around with your video content in order to increase the length of the video and speed up the total playback time. Create valuable content slowly and steadily to meet YouTube's monetization requirements.
---
NOTE : YouTube short video views do not count toward the YouTube total play time (4000) milestones. However, subscribers converted from your YouTube short will count. 4.
---
How do I increase my subscribers?
To monetize your YouTube channel To monetize on YouTube Another requirement to monetize your YouTube channel is to get 1000 subscribers.
A channel subscriber is someone who has built your channel and will continue to use it for a long time. When you upload a new video, you will be the first to receive a notification.
YouTube knows the pulse of its audience very clearly. Therefore, we have come up with this 1000 subscriber threshold to monetize your channel.
The different ways to increase the number of subscribers to a channel have already been explained. We have already discussed the various ways to increase the number of channel subscribers. already explained. In order to maintain the quality of this article, we will not cover them here.
Let's look at some frequently asked questions about the requirements of the YouTube Partner Program.
Frequently asked questions about YouTube monetization requirements
1. do these requirements apply to all new channels?
Yes. Yes, all channels must meet the above requirements. 2.
2. do these requirements apply to all existing channels?
Yes, on February 20, 2018, YouTube will implement these conditions for existing channels with a 30-day grace period.
Additionally, we will automatically re-evaluate channels with the new policies if they already meet these qualifications.
3. why is YouTube allowing these new policies?
First. YouTube will be announced new policies allowing monetization on January 16, 2018.
They said in the article

Anyway, these requirements are good for YouTube's health because YouTube is the largest online revenue platform in the world. For security reasons and to prove the talent of YouTubers, both parties welcome these policies.
How do I apply for the YouTube Partner Program?
Once you reach the monetization requirements, YouTube will automatically review your channel. Additionally, YouTube will assist both automated systems and human researchers with the review.
If you meet all of YouTube's guidelines, you will be eligible for the YouTube Partner Program (YPP) If you meet all of YouTube's guidelines, you will be considered a member of the YouTube Partner Program (YPP). 5.
Is the YouTube Partner Program available in my country?
If you are in one of the following countries, you are welcome to join the YPP
Australia
Brazil
Belgium
Canada
Denmark
Germany
Iceland
India
Iraq
Italy
Indonesia
Jamaica
Japan
Kenya
Malaysia
Mexico
New Zealand
Netherlands
Russia
Singapore
Saudi Arabia
United Arab Emirates
South Africa
Thailand
United Kingdom
United States of America
What should I do if YPP rejects my channel?
If your channel is rejected/denied from the YPP process, it is because it may not be able to comply with YouTube's monetization requirements and community guidelines.
In the meantime, YouTube will outline the reasons. However, it does not point out which videos or activities affect your channel.
However, you will have the opportunity to re-apply after the 30-day denial. Channel Denial for Monetization Please review our frequently asked questions regarding 7.
7. how long does it take to meet YouTube's monetization requirements?
It depends on how you are treating your channel. Some people achieve it within 30 days, others take a year. On average, it takes about 5-6 months. 8.
8. is private video time considered 4000 hours of viewing time?
Answer. No. In general, YouTube does not count as 4000 hours of viewing time. In general, YouTube only considers the viewing time of a public video. Therefore, the number of views of the following videos will not be considered as part of the 4,000 total views.
Private Videos
YouTube short videos
Advertising videos
Deleted videos
And finally, Private Videos
Finally - Conclusion
You may feel that reaching 1,000 channel subscribers and 4,000 hours of viewing time on YouTube is an impossible mission. However, if you follow through and monitor the above, you will get a pass to join the YouTube Partner Program as soon as possible.
We hope this article on YouTube monetization requirements will guide you in learning and exploring what's new on your YouTube journey. If so, please leave a "yes" in the comments section.
Feel free to share this post with your friends.
Sharing is caring!
==